Nowadays, attackers are using new and more advanced ways to attack, such as using APT(Advanced Persistent Threat),Leaking information, using SSL attack via Cloud, and Evasive Malware that isn't easy to detect with the sandbox, etc.
Diagnosis Solution identifies the following
Malware
Identify the undetected evasive Malware
Attack Traffic
Check if existing security settings detect the virus, spyware, C2, etc. attack traffic
Countermeasures
Visualize SaaS and cloud usage status and grasp SSL communication volume to check if the latest attack countermeasures are taken
Access Restrictions
Check whether access to sites infected with viruses and sites that reduce productivity is properly restricted
Being aware of changes and abnormalities as quickly as possible is the core of preventing issues.
Our network security diagnosis can support this.
Security Lifecycle Review (Automatic Visualization Tool)
Analyzed report of risk & applications confirmed on the network.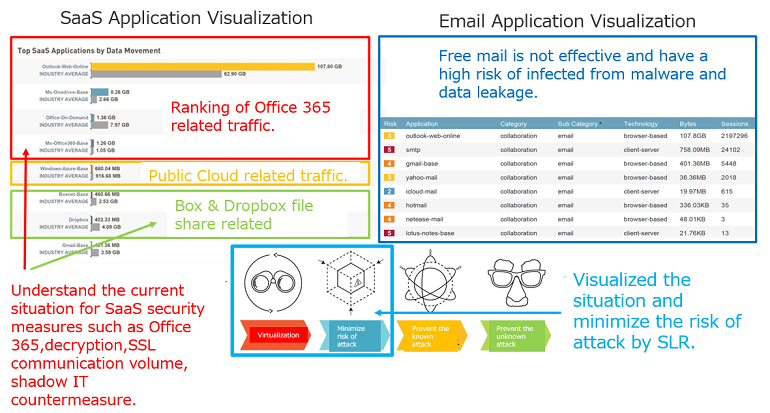 Installation Structure and Flow of Diagnosis
Installation Structure
Connect the next-generation firewall to the SPAN port or mirror port of the switch where all traffic between the customer's internal network user and the Internet passes.
Connect to the Internet through the management port of the next-generation firewall to visualize your security risk. Update signatures and communicate with WildFire.

Flow of Diagnosis
Includes Installing device, analyze all traffic,reporting and briefing session.
No downtime, minimum changing configuration.